Tyler Salinger was a freshman in season 2 and came in mid way through the school year. his family moved to town after the shooting because his mother wanted to be close to her sister. Tyler was shown to be a funny guy who fit in really well while it took his brother some time to. He immdiatley was able to get Charlotte Martin to go out with him, but that wasn't the best desicion, his cousin, Lucas Wilde who was also new liked Charlotte and tried to do anything to scare Tyler away such as locking him in closets and trying to ruin his reputation, when his brother Evan told Tyler to be careful and maybe give up, Tyler didn't listen what is what resulted in him being stabbed to death by Lucas in the season 2 Finale. Tyler was the son of Danielle and Nate Salinger, nephew of Starr Manning, Jack Manning, James Ford and Robert Ford, Cousin of Kenzie Ford, Cody Ford, Hope Thornhart, Bryan Manning, Ryder Ford, Lucas Wilde and Savannah Wilde. Tyler is portrayed by Canadian actor Ryan Cooley.
Early Life
In The Series
Season 2
2.04 Cry For Help Tyler arrives in town after the shooting when his parents want to be closer to his Aunt Starr and Uncle James.
2.10 Going Under Tyler asks Charlotte out after getting to know her in class and then takes her on a date to a dinner and a movie.
2.13 Until Your Mine
Tyler is walking to lunch when Lucas locks him in a closet. Tyler is unable to get out until someone finally hears him pounding on the door.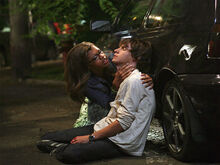 2.20 Day of Reckoning
Tyler attends the graduation party with girlfriend Charlotte and friends Trinity and Max. after a couple hours he goes out to get some fresh air. He meets Lucas out there who argues with him and Tyler tells him to leave him alone. Lucas then stabs him in the back and leaves Tyler there. Lucy Hubbard witnesses this and runs to help him while calling for help getting the attention of Charlotte and Trinity. Lucy and Charlotte try to put pressure on his stab wound and Trinity calls for help, but by the time the paramedics arrive, he's dead.
Trivia
Quotes
Relationships
Start Up: 2.10 Going Under
Break Up: 2.20- Day Of Reckoning

Reason: Tyler was killed by Lucas